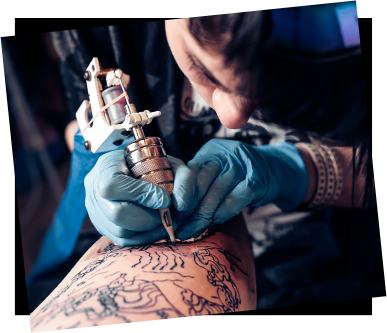 about us
InkBed™ started out as a company focused on offering an alternative to the standard tattoo industry choices of steno stools and facial beds. We saw a need in the industry for furniture designed specifically for the tattoo artist and their clients. We worked with ergonomic experts, furniture designers, and most importantly – tattoo artists, to design our flagship chair – The Patented InkBed™. We designed the InkBed™ to specifically tackle the challenges in the tattoo industry: customer comfort, skin accessibility and - surprisingly never done before - we prioritized the comfort of the artist as well.
While InkBed started very small with a tiny inventory, we had an overwhelming positive response from our artists and their clients. This sparked our growth and specialization in tattoo industry design, and we built from there. This growth led us to our InkChair™, InkStool™, and our new Fully Electric InkBed™ - all fully patented and designed in close collaboration with active tattoo artists. We are constantly performing market research and design and have many exciting ideas for the tattoo industry coming in the future.
InkBed manufactures everything in bulk and cut out middle man distributors to bring equipment to you at rock bottom prices. We are based right outside of Seattle, Washington and offer FREE Ground shipping everywhere in the Lower 48 continental United States.
patented products
the patented electric inkbed™

the patented inkstool™

the patented inkbed™
customer testimonials
"I really appreciated that a person answered the phone instead of a robot, and connected me right to Josh, who helped me with my questions and resolved my problem very efficiently and fairly. Great customer service all around. A rare thing these days. Also, very happy with your products. Keep up the good work."

- Mike Z, Texas

"5-Stars - We recently ordered the Electric Inkbed. The entire process was so easy. Ricky provided excellent customer service, even when we had a minor issue. He took care of everything quickly and totally to our satisfaction. Love the bed!!! Thanks guys... you have earned a customer for life!"

- Amy Anderson, Google

"5 Stars - I recently purchased and INKBED kit complete with a bed, armrest, work table, and artist chair. When I received it there packaging was damaged obviosly by mishandling by the delivery company...I couldn't believe how quick they were to correct the problems, which again were caused by no fault of their own...Their customer service is by far the best I've ever dealt with. Not to mention the product and material are unbelievable for the price...the product is well built and looks great. They've definitely earned my business and when I go to upgrade and set up more stations, I'll be shopping with INKBED!!"

- Jacob Mekeel, Google